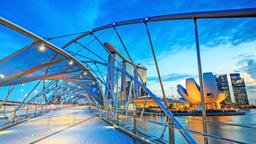 Hotels near Singapore Changi Airport
Search hundreds of travel sites at once for Singapore Changi Airport hotels
Best hotels near Singapore Changi Airport
Based on 4,438 reviews
Cleanliness
9.3
Comfort
9.3
Location
9.4
Services
9.0
Staff
9.0
---
Pros:
Perfect location, literally in the airport
Cons:
Expensive but not by Singapore standards
Pros:
My family and I enjoyed our brief stay after coming off of a 17 hours flight. We needed a place to shower and relax since we arrived very early in the morning and our main hotel wasn't ready until much later in the day.
Pros:
Breakfast, location, very clean, nice rooms. Concierge.
Cons:
Front desk not very friendly at night. Morning staff much better.
Pros:
Great location if you want to be by the airport. Great amenities and the rooms are clean and comfortable. The staff is friendly and helpful.
Cons:
Wish it was better priced
Pros:
great location at a great airport with friendly staff. can't say much else.
Pros:
Great service for day room use.
Pros:
I booked this due to a 21 hour layover and am happy with that decision. The staff were helpful and competent. The room as well as the rest of the hotel was spotless. Bed was comfortable, room a good size for the king bed and the bathroom was amazing. It's not cheap but it's very nice. I opted for including breakfast and highly recommend it. A wide variety of foods and all the ones I tried were very good in quality and flavor.
Cons:
It's a very long walk from the reception to the lifts up to the rooms, but the staff are happy to help With your bags if you wish.
Pros:
Good comfortable room, ideal for a night stopover between flights, easy walk from arrivals and back to departures, excellent swimming pool. Had a very tasty laksa.
Pros:
Concierge very helpful
Pros:
Amazingly one can take the airport luggage carts right to your room in this hotel. Great snacks in the Holiday Inn Club for those who are members (Holiday Inn owns this brand, too) Fast check in and check out, 10 minutes from ANA check in in Terminal 2.
Cons:
While architecturally very interesting, the hotel is like a maze! To go to our room on the 4th floor required the use of two different lifts and our room key.
Pros:
Spacious room, bright, staff is friendly and helpful
Cons:
Breakfast is not impressive - lots of choice but pastries are not good, juices are not fresh, muesli is way too sweet
Cons:
Pool Change rooms and shower very poor
Pros:
Excellent hotel for the airport, huge room and all facilities. Left the hotel and was checked in a through security 20 minutes later.
Cons:
Our room was quite far from the lift for carrying luggage.
Pros:
fantastic rooms, very convenient walking distance from the airport and back.
Pros:
It was a very comfortable and welcome stopover after a long flight from Sydney and so convenient for the on flight to London .
Pros:
Efficient hotel, well designed and comfortable in a very convenient location if you are stopping over in Singapore between flights.
Pros:
Overall atmosphere, facilities and proximity to airport
Cons:
We had a power outage that lasted several hours when I stayed at the hotel and the staff could have done better in making our stay comfortable. The room was warm and we had a 5:45am flight back to the US and it was very inconvenient.
Pros:
Response to our request was very quick and kind.
Pros:
The pool, the room, the service
Cons:
finding your way in the corridors. Will help to have signs. The prise of breakfast - 60 SGD is too much
Pros:
The rooms are crisp clean
Based on 1,213 reviews
Cleanliness
9.0
Comfort
9.0
Location
8.6
Services
8.9
Staff
8.7
---
Pros:
I liked that you could check out DVDs and good-quality bicycles. Also, it was close to the airport.
Based on 943 reviews
Cleanliness
8.8
Comfort
8.6
Location
8.7
Services
8.3
Staff
8.5
---
Pros:
The room was clean and comfortable. The Staff were friendly and helpful. The location was perfect for us as we were visiting family located close by.
Pros:
The hotel is just a stone throw away from Changi airport, and it's highly accessible with MRT. The bed is comfortable, and having a bathtub is a huge plus.
Cons:
Wifi speed is a little slow.
Pros:
Clean modern room, great view, awesome gym with pool and a very friendly staff made it a relaxing stay while working nearby.
Cons:
Having the gym and pool open a little later (like 11pm) would be nice for us that work, also in-room USB plugs would help for international travelers.
Based on 1,233 reviews
Cleanliness
8.7
Comfort
8.5
Location
7.8
Services
8.0
Staff
8.9
---
Pros:
New, clean, modern aesthetic
Cons:
Wicked odor in bathroom, useless lamp placed on nightstand with wrong type of plug for the outlet. Whiteboard wall and beanbag chair were cute, but out of place in a serious hotel. Fancy, modern showerhead looks nice, but could not actually be aimed accurately. No power outlet in bathroom. Restaurant staff took a long time to fill a very simple order, which was ridiculously expensive ($6 + tax and service charge for a can of root beer.)
Pros:
Reception staff were very nice and welcoming. Room was large, well-appointed, and very clean. Shower had lots of hot water and good water pressure, which is a plus. Room also had a scribble wall where you could draw - would be lots of fun for kids! We ate dinner at the hotel and found the food excellent and the service prompt. Unfortunately we were only staying one night due to a long layover, so we didn't get to use the rest of the facilities, but they looked nice!
Based on 3,918 reviews
Cleanliness
8.7
Comfort
8.5
Location
8.8
Services
8.2
Staff
8.1
---
Cons:
Absolutely no soundproofing in rooms Front desk not very polit
Pros:
Automatically upgraded Excellent staff Beautiful rooms
Cons:
USB charger points were a bit temperamental but it was nearly 3 years ago
Pros:
Nothing could not get toit
Cons:
Nothing called many times they said they would contact me about a refund but haven't heard a thing.
Cons:
Missed my flight and they refused to get me a refund. How should I proceed on getting a refund since I've never used the room? Does Kayak stand behind the products they sell?
Pros:
Clean, comfortable, although small and enclosed.
Cons:
There was no engaged sign for the common bathrooms. Rented by 6 hour blocks, so no sleep in.
Based on 4,818 reviews
Cleanliness
8.1
Comfort
8.2
Location
8.0
Services
7.9
Staff
8.3
---
Pros:
The hotel is close to the beach
Cons:
Hotel advertises itself as an airport hotel. However it is quite far from terminals. $17 Singapore dollars by taxi. Hotel advertises shuttle service to/from airport. But practically it is impossible to use it, because Shuttle runs once in 90 minutes. Also, $20 for breakfast is a little bit too much.
Cons:
They changed the hotel shuttle time. Earliest drop off time leaves hotel at 630.
Pros:
Comfortable and quiet. Was a very brief stay (barely 9 hours) but was impressed
Cons:
The service was bad.
Pros:
I was on a business visit and stayed there for a month. Staff were friendly and helpful. stayed in an executive club room. Club lounge is good and well maintained. House keeping team Keep rooms spotless. Very accommodating. Especially Ding Huan an excellent member to keep the room clean and nice. Plenty of eating places within 5mins walking distance from hotel. Variety of eating places and also Changi hawker centre gives you a lot of options to eat and drink.
Cons:
A couple of comments to make during my long stay is the internet connectivity through Wifi in rooms is below average. Besides, the breakfast buffet can be improved . Some days I found that thete were rotten pineapple pieces with fruits.
Pros:
The staff was very helpful and professional.
Pros:
room clean and weell appointed
Cons:
further than expected from airport,failedto provide breakfast as advised prior to early flight, limited club facilities
Pros:
good swiming pools, breakfast included, internet connection in bedroom, access to club room limited free food in the evening, clean and high quality, free shuttle to airport
Cons:
a little remote, we chose it for its acess to airport,as with all of singapore it was over air conditioned
Pros:
its good shuttle service via airport.
Pros:
Close to the airport and food court.
Cons:
Noise from the airport.
Pros:
Close to airport with a shuttle bus, and springboard for Pulau Ubin. Changi Village itself is laid back, unpretentious and more rural in nature than most of Singapore.
Pros:
Assistance from the staff was very good.
Pros:
The swimming pool on the top deck of the hotel is great and the concierge/porter is very willing to look for a taxi including return arrangement and that was great because in the city there was a long cue for returns! Clark Quay was worthwhile a visit!
Cons:
Is is more than 15 minutes from the airport! and to the city takes another 30 minutes! Please be aware of this.
Pros:
the staff were fiendly & courteous. Also appreciated the shuttle service to the airport.
Pros:
the location was wonderful. excellent facilities and breakfast, complimentary shuttle
Cons:
We stay in 2 room without bathing wrap and no mini bar and no water in bottle.Last time we stay on this hotel we have al this. We have to pay the same price anyway. This was our last stay on this hotel. To far from the city.
Based on 2,096 reviews
Cleanliness
8.2
Comfort
8.1
Location
7.7
Services
7.8
Staff
8.1
---
Based on 3 reviews
Pros:
Convenient for transit
Cons:
Basic amenities should be provided without having to request (toothbrush provided upon request, no sandals and we didn't ask). An electric socket at bedside has its cover removed exposing live contacts. One of us accidentally touched the live contact in the midnight when trying to reach the light switch - got a brief sock. That could be fatal. An indication of lack of attention of the house keeping/maintenance crew to ensure health and safety of the premises.
Based on 11 reviews
Pros:
The location is very good with good transportation bus route to all over Singapore. Restaurants and food courts are nearby.
Cons:
some parts of the wall of the some rooms need repainting.
Pros:
We live only one night
Pros:
Its conveniently located, for me, in east. The bed is comfortable, with no plastic sheets unlike some budget hotels, and bathroom is clean.
Cons:
the ergonomics of the bathroom. I stayed in room 36, main block. The shower door, opens to the inside, and there is barely enough room to squeeze past it as its blocked by the tap! Suggest to move the door hinges to other side. The shower foam dispenser is outside the shower, again, its v difficult to reach once the door is closed. And, the hook to hang clothes on is located right above the foam dispenser! appears someone just fitted all the stuff in there without thinking how the bathroom may be used.secondly, the carpet in bedroom should be vacuumed, incl under the bed, tables etc, as large amount of rubbish gathering there.
Pros:
The location is near to the Katong and Parkway, has a lot of good restaurants. The price is quite ok.
Cons:
Pretty noisy, because it's just by the east coast road. And the room is really small.
Pros:
Good location, good price.
Cons:
The rooms are claustraphobic and have no window. There is room for a bed only and the bathroom is tiny. Ok for 1 night if on a tight budget.
Pros:
Location of the hotel is good, and there is quite a number of eating places around the hotel.
Pros:
Tastefully decorated.
Cons:
Room is small.Walls are too thin so activities in the corridor can be heard in the room.Also room is too bright for sleeping.
Pros:
Surrounding lot's of food. Buses convinently accessible.
Pros:
The stay was pleasant enough except for some minor technical hiccups, which were quickly resolved by the owner and the service staff.
Cons:
Hotel staff seems to lack training at handling calls and problems. Even for a budget hotel, there should still be basic courtesy like greeting the guests.
Cons:
Cleanliness of the room. Toilet roll was missing. Cramped room.
Pros:
just one day , so no comment
Based on 754 reviews
Pros:
The hotel is well located, close to the airport. It has a restaurant, which is very convenient.
Cons:
The music at the restaurant was too loud while there was a live music performance.
Cons:
Cuisine and bar are oleasant but not up tp to a 4 star level
FAQs when booking a hotel near Singapore Changi Airport
How much is a cheap hotel near Singapore Changi Airport?
How much is a cheap hotel near Singapore Changi Airport for tonight?
How much is a cheap hotel near Singapore Changi Airport for this weekend?
How can I find hotels near Singapore Changi Airport?
Where to stay in Singapore?
Our map will help you find the perfect place to stay close to Singapore Changi Airport by showing you the exact location of each hotel.
Popular in Singapore
Airports in Singapore
Neighbourhoods in Singapore