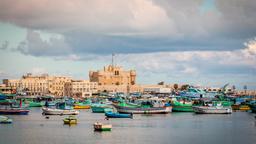 Hotels near Borg El Arab airport
Search hundreds of travel sites at once for Borg El Arab airport hotels
Best hotels near Borg El Arab airport
Based on 148 reviews
Cleanliness
8.8
Comfort
8.9
Location
7.8
Services
8.4
Staff
8.4
---
Based on 239 reviews
Cleanliness
8.4
Comfort
8.4
Location
7.1
Services
7.8
Staff
8.3
---
Pros:
Very respected staff , polite , fast . very clean rooms very nice delicious food
Pros:
The services and room are excelent.
Cons:
The location is far from the center city
Pros:
The Courtesy & smile of the staff that i dealt with was more effective than a welcoming drink in other hotels ,The rooms are clean & well furnished & tht was the main reason i booked this hotel & i recommended to other frnds who booked 2 other dbl rooms same time we were there
Cons:
only thing i ddnt like but actually the front office employee managed to absorb my anger , that i too my husband's suit in a hanger fm the closet by mistake & it was sent to alexandria with the driver , we ddnt notice or do it on purpose ...so the room service reported it as missing on our check out & they asked to charge us L.E 20 !!! i found it non sense whn u pay a L.E 2900 something is to be asked for a 20L.E for a hanger !!!! but as said the Front office girl managed tos ort it out ...thx to her
Pros:
it was very nice and luxury
Cons:
its kinda far from the heart if alexandria and alond drive from the hotel
Pros:
The Hotel is very nice and with good conditions, but it should be mentioned that the Hotel is far from the City Centre
Pros:
the suite was very roomy, and the furniture was very modern
Cons:
the house keeping wasn't very good.
Pros:
nice rooms,friendly staff
Cons:
this time they had a group checked in and they allowed them to have some entertainmnet games in the garden which is overviewed by some of the rooms and they were so noisy .
FAQs when booking a hotel near Borg El Arab airport
How much is a cheap hotel near Borg El Arab airport?
How much is a cheap hotel near Borg El Arab airport for tonight?
How much is a cheap hotel near Borg El Arab airport for this weekend?
How can I find hotels near Borg El Arab airport?
Where to stay in Alexandria?
Our map will help you find the perfect place to stay close to Borg El Arab airport by showing you the exact location of each hotel.