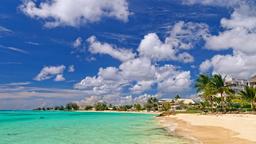 Car rental directory
4 Locations

3 Locations

2 Locations

2 Locations

2 Locations

2 Locations

1 Location

1 Location

1 Location

1 Location

1 Location

1 Location
Top tips for renting a car in Barbados
As long as you hold a valid driver's license from your country of origin or an International Driver's Permit, you can obtain a mandatory visitor's permit to drive and rent a car in Barbados. Fees range from 10 BBD (5 USD) for a two-month permit to 100 BBD (50 USD) for a one-year permit. These permits are available at all rental agencies throughout the island. Also, make sure you have a credit card, because there are some agencies (Courtesy Rent-A-Car) that do not accept cash.
Parking your rental car in Barbados is fairly easy because the laws are very relaxed in this regard. Generally speaking, free parking areas within town limits are designated by the letter P or wherever you find parking meters. Outside of municipal limits you are free to park on most roads, but always take care to use well-lit areas wherever possible.
Should you decide to rent a car in Barbados, you should know that rush-hour traffic on the island heading towards Bridgetown (the capital) between the hours of 7:00 am and 8:30 am and out of Bridgetown between 4:30 pm and 5:30 pm can cause excessively long lines and frequent jams. You should keep this in mind if you intend to be on the road or if you have appointments that you need to keep.
Apart from the national ABC Highway, most roads in Barbados consist of one lane in either direction, and many streets in the countryside are not well lit, so use extreme caution when driving at night. Despite its size, it is not uncommon to find yourself lost when driving on the island. This is especially true for first-time visitors, so renting a GPS system is a good investment.
FAQs about renting a car in Barbados
How much does it cost to rent a car in Barbados?

On average a rental car in Barbados costs RM 44 per day.

What is the cheapest car rental company in Barbados?

In the past 72 hours, the cheapest rental cars were found at Ace (RM 132/day), E-Z Rent-A-Car (RM 148/day) and Drive A Matic (RM 349/day).

What is the best rental car company in Barbados?

Based on ratings and reviews from real users on KAYAK, the best car rental companies in Barbados are Drive A Matic (10.0, 1 reviews), Enterprise (10.0, 1 reviews), and E-Z Rent-A-Car (9.3, 4 reviews).

How can I find car rentals near me in Barbados?

Take a look at our extensive car rental location map to find the best rental cars near you.

What is driving like in Barbados?

As in the UK, drivers in Barbados use the left side of the road. All rentals are designated with the letter H on the license plate. Roundabouts are very common, especially at major highway intersections, so exercise caution when you navigate them. If you are traveling with children, you will need a child seat for any kids 5 years or younger.

How old do you have to be to hire a car in Barbados?

Thinking of renting a car in Barbados? If so, you need to be at least 21 years old and have some experience behind the wheel. Rental companies' regulations vary between holding a valid driver's license for 2 to 5 years, but there is no young persons' fee applicable. If you are a senior over the age of 70, you will require a medical certificate in order to qualify to rent a car.

How much does petrol cost in Barbados?

While a liter of petrol will cost about $0.83 in the US, in Barbados the price is about $1.96 per liter ($3.14 per gallon in the US). Diesel prices are much better ($1.57 per liter and $5.89 per gallon) in comparison (in the United States, $0.81 per liter and $3.08 per gallon). Fortunately, the island is not very big, and a good network of roads ensures that a full tank can go a long way.

What are the speed limits in Barbados?

When driving a rental car in Barbados, you should observe the following speed limits: 40 km/h or about 25 mph when you are in the city or developed areas, 60 km/h or about 38 mph in rural areas and 80 km/h or about 50 mph on highways. If in doubt, always pay attention to the speed-limit signs, which are posted at various points along all minor and major roads.
Car rental locations in Barbados
Popular car rental locations
The rates displayed include all taxes and fees for hire cars for the class listed and were found by KAYAK users in the last hours. Hires are subject to change and may not be available on all hire cars listed or dates of travel. Some hire car providers charge additional fees for other services (GPS, infant car seats, etc.). Please check the hire cars providers' sites.