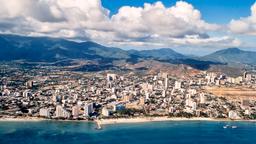 Car rental directory
2 Locations

1 Location

1 Location

1 Location

1 Location

1 Location

1 Location

1 Location
Top tips for renting a car in Venezuela
Deciding to rent a car in Venezuela can give travelers the freedom they wouldn't get by taking often unreliable public transport. Popular routes include driving from Caracas to Ciudad Bolivar or the western town of Merida, which is a great jumping-off point for exploring the Andes. Other car-friendly destinations include the El Avila National Park. Be aware that border regions are particularly unstable, thus, self-drive travel here is not advised.
Anyone who wishes to rent a car in Venezuela and travel outside urban areas would do well to consider a four-by-four. Roads in rural areas are often unpaved, and a vehicle like this will help you to access numerous areas of the country known for their outstanding natural beauty, which would not be possible in a normal sedan.
There are no laws on the use of child car restraints in Venezuela, but it is highly recommended that you place your children in a car seat if you would do so when driving at home. Some travelers may prefer to bring their own booster seats with them, but agencies may also be able to provide seats for an additional fee, such as the miniscule fee of 10 VEF (0.0016 USD) per day through Amigos Car Rental. Always be sure to book this service in advance.
You should always park your rental vehicle in a secure (preferably attended) parking lot. Parking costs tend to be low, and lots are both well marked and readily available in urban areas.
FAQs about renting a car in Venezuela
How can I find car rentals near me in Venezuela?

Take a look at our extensive car rental location map to find the best rental cars near you.

What is driving like in Venezuela?

Driving in Venezuela is on the right-hand side of the road. Driving in Venezuela is not for the faint-hearted: variable road conditions and typically aggressive driving means that it is only recommended for experienced drivers to rent a car in Venezuela. It is also important to be aware of some local rules—for example, pedestrians do not have the right of way when crossing the road, so other cars may not stop or even slow down.

How old do you have to be to hire a car in Venezuela?

To rent a car in Venezuela, drivers need to be at least 21 years of age, and they must have had a domestic driver's license for at least one year. It is not necessary to provide an International Driver's Permit (IDP), but a valid domestic license printed in the Roman alphabet will be required, along with a passport. On-the-spot ID checks are common when traveling in Venezuela, so make sure to always have these and your rental documents with you.

How much does petrol cost in Venezuela?

Petrol stations in Venezuela are commonly operational from 6:00 am to 10:00 pm, and most are serviced. Keep in mind that attendants usually expect a small tip for filling the car. Fuel prices in Venezuela are the cheapest in the world, with a liter of petrol costing around 50 VEF (0.008 USD—less than a penny), which is 0.03 USD a gallon.

What are the speed limits in Venezuela?

Speed limits in Venezuela may seem to be ignored by local drivers, but fixed and mobile cameras do operate, and drivers caught transgressing can expect to face a hefty and lengthy fining process. The general limits are 60 km/h (37 mph) in urban areas, 80 km/h (50 mph) on rural roads, and 120 km/h (74 mph) on highways.
Car rental locations in Venezuela
Popular car rental locations
The rates displayed include all taxes and fees for hire cars for the class listed and were found by KAYAK users in the last hours. Hires are subject to change and may not be available on all hire cars listed or dates of travel. Some hire car providers charge additional fees for other services (GPS, infant car seats, etc.). Please check the hire cars providers' sites.